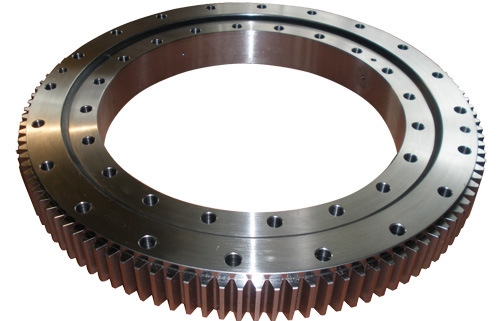 Rotary drive usually consists of worm, slewing bearing, housing, motor and other components. Since the core component adopts slewing bearing, it can bear axial force, radial
force and overturning moment at the same time. There are many forms, but the structural composition is basically the same.
The slewing bearing is a large bearing that can withstand comprehensive loads and can withstand large axial, radial loads and overturning moments at the same time. Slewing
support bearings generally have mounting holes, internal gears or external gears, lubricating oil holes and sealing devices, which enable the host to be compact in design,
easy to guide and easy to maintain.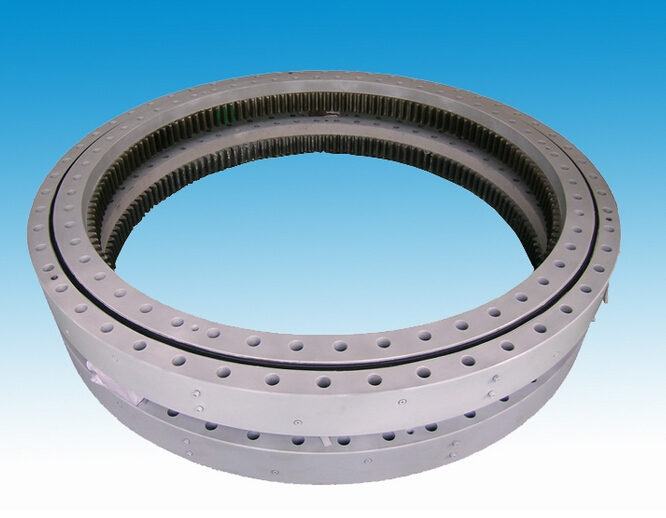 Slewing ring bearings include toothless, externally toothed and internally toothed four-point contact ball bearings, double-row angular contact ball bearings, crossed
cylindrical roller bearings, crossed tapered roller bearings and three-row cylindrical roller composite bearings. series, in which four-point contact ball bearings have high
static load capacity, crossed cylindrical rollers have high dynamic load capacity, and the pre-interference of crossed tapered roller bearings can make the bearings have
greater support rigidity and rotation accuracy. Three-row cylindrical roller combined bearings have the characteristics of making the main engine more compact due to the
increase in load-bearing capacity leading to higher bearing height. Various forces are borne by different raceways, so under the same force, the bearing diameter can be
greatly reduced. A slewing bearing with high load carrying capacity.
Slewing bearings are widely used in large slewing devices of hoisting machinery, mining machinery, construction machinery, port machinery, ship machinery, and high-precision
radar machinery and missile launchers. At the same time, we can also design, develop and produce various special structure slewing bearings according to the specific
requirements of users.
Slewing bearings are widely used in real industry and are called "joints of machines". They are mainly used in: truck cranes, railway cranes, port cranes, marine cranes,
metallurgical cranes, container cranes, excavators , filling machines, and CT machine standing wave therapy devices, navigation instruments, radar antenna bases, missile
launchers, tanks, robots, revolving restaurants, etc.
In addition to various engineering machinery, the application scope of slewing bearings has gradually expanded. Currently, equipment platforms such as port equipment,
metallurgical equipment, and drilling platforms have begun to use slewing bearings to replace original bearings on a large scale.
https://www.lycbearingcn.com/wp-content/uploads/2023/09/1303833122_1219759612.jpg
401
500
行政
https://www.lycbearingcn.com/wp-content/uploads/2021/03/logo.png
行政
2023-09-12 15:32:35
2023-09-12 15:32:36
What are the advantages of slewing bearings?