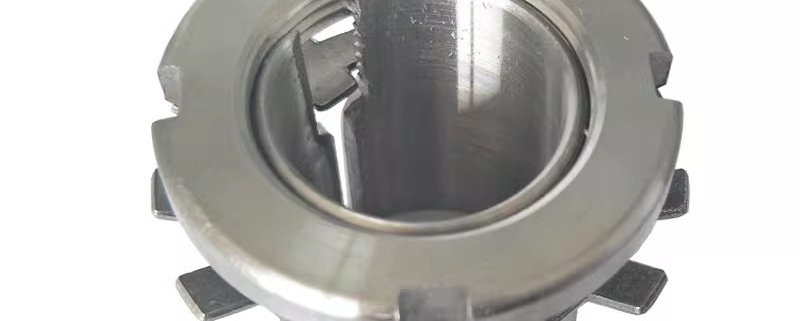 Adapter sleeves are the most commonly used component when positioning bearings with tapered holes on cylindrical shafts, because this type of bushing can be used on smooth or
stepped shafts.
The bushing is easy to install and requires no additional fixing on the shaft. When using an adapter sleeve on a smooth shaft, the bearing can be positioned anywhere on the
shaft. When used together with the stepped ring on the stepped shaft, the bearing can be accurately positioned axially and also facilitate the disassembly of the bearing.
Adapter sleeves are used to fix tapered hole self-aligning bearings (self-aligning ball bearings, self-aligning roller bearings) on shoulderless shafts. They have a simple
structure, reliable operation, and easy bearing replacement. They are widely used in textiles, light industry, papermaking, etc. >Metallurgy, belt transportation and conveying
equipment industries.
The adapter sleeve is composed of an adapter bushing, a locking nut, a locking washer (or locking card) and other parts. Adapter sleeves with lock nuts and lock washers are
only interchangeable as a complete set. Parts from different sources are not interchangeable.
The mark of the adapter sleeve is represented by the Latin letter H and Arabic numerals. The Arabic numerals from left to right represent the size series code and the
applicable bearing nominal inner diameter code respectively. An example is shown in the figure.
The adapter sleeves suitable for uranium bearings with an inner diameter of 40mm and size series 23 are:H2308 GB 9160.1
The following are examples of common bearing adapter sleeve sizes. If you have any needs, please contact our staff directly and we will provide you with professional answers.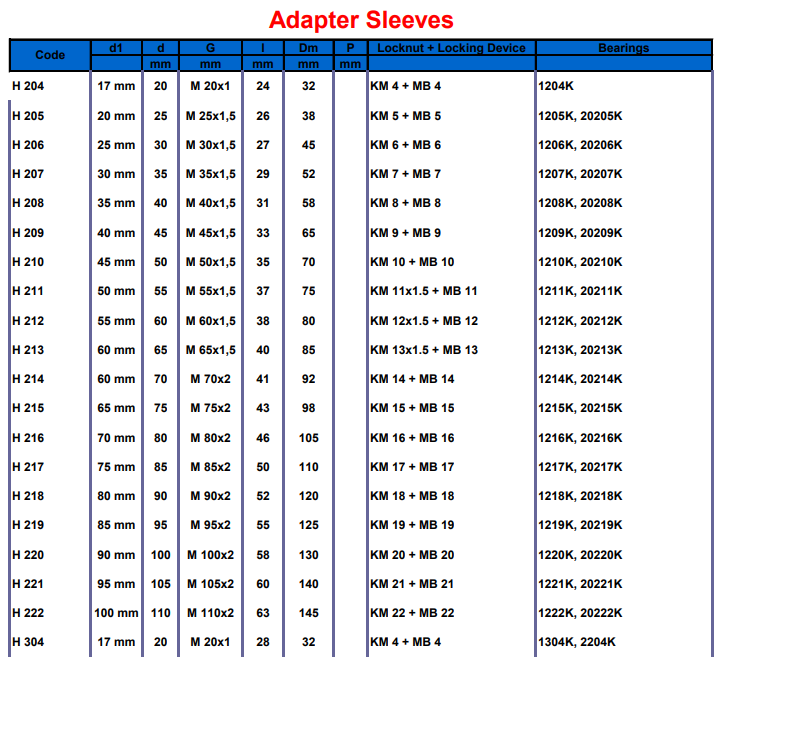 https://www.lycbearingcn.com/wp-content/uploads/2023/09/O1CN012Jb6vMUXOvA7DrC_468539439.jpg
800
800
行政
https://www.lycbearingcn.com/wp-content/uploads/2021/03/logo.png
行政
2023-09-19 17:42:30
2023-09-19 17:42:30
Our company sells bearing adapter sleeves